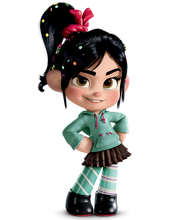 Biography
Vanellope von scheetz is the tritagonist to disney's wreck it ralph. She's an 8 yr old girl who is always made fun of and called the glitch by her peers.
she is also the counterpart to rancis fluggerbutter.
Personality
Daring
Sweet
Tomboyish
Emotional
Vibrant
Klutzy
Appearence
Vanellope has gleamy black hair tied back with a red licorice candy, and candy accessories all over. She has big, brown eyes, natural flush in her cheeks, and a small nose. She wears a mint green sweater over a brown skirt with peppermint print tights uunderneath.
Allies
Enemies
Trivia
Vanellope's skirt looks like a reeces pb cup wrapper.
Vanellope is nicknamed vanilla or the glitch.
Vanellope is the second j.d.p to live in a fantasy world. The other is alice.
Vanellope's world could be a knockoff of strawberry land.
Ad blocker interference detected!
Wikia is a free-to-use site that makes money from advertising. We have a modified experience for viewers using ad blockers

Wikia is not accessible if you've made further modifications. Remove the custom ad blocker rule(s) and the page will load as expected.