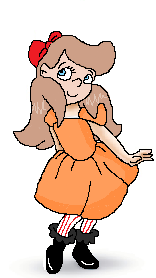 I can be a very average girl. But I prefer being my own average girl!
Biography
Sassafras is the 8 yr old daughter of alice and christopher robin.
Personality
Noble
Assertive
Polite
Shy
Creative
Appearence
Sassafras is a slender girl with pale brown hair, and baby blue eyes. She wears an orange dress with white tights and vertical red stripes under, and black boots. She also has a red bow in her hair. 
Trivia
She is a daughter of a disney princess. The others are angeline, jane, oakenette, and harmony.
She was born on august 7th.
Ad blocker interference detected!
Wikia is a free-to-use site that makes money from advertising. We have a modified experience for viewers using ad blockers

Wikia is not accessible if you've made further modifications. Remove the custom ad blocker rule(s) and the page will load as expected.